Regular price
Sale price
$39.99 USD
Unit price
per
Sale
Sold out
LVRex Liver Health
LVRex  is a combination of herbs and nutrients with powerful antioxidant properties designed to protect and promote liver cell health and tissue function.*
1 Months Supply.
Share
Who is REX Genetics

REX Genetics is a leading dietary supplement company based in Lexington, Kentucky in USA. The company was founded by a highly skilled team with a passion for providing high quality, nutritional supplements grounded in the incredible power of nature. From the start, REX Genetics has aimed to make a true difference in the health and well-being of our customers and the planet through sustainable company practices. Environmental stewardship is a cornerstone of our company.
Safety

All REX Genetics ingredients have been analyzed by a third-party lab for potency, quality, and purity and guaranteed to be free from pesticides, insecticides, and other toxic substances. REX Genetics products are manufactured in an environmentally controlled facility according to the current Good Manufacturing Practice (cGMP)
Innovative Design

At REX Genetics we challenged our top research and development professionals to design a premier line of pharmaceutical grade supplements.
Uncompromising Quality

Our success in the health care industry has taught us that quality, safety, and efficacy are intertwined. We've carried over the same dedication to uncompromising quality that we use in our pharmaceutical products to REX Genetics nutritional supplements.
Supplement facts

| | |
| --- | --- |
|   | Amount Per Serving |
| milk thistle (silybum marianum) extract (seed) | 150 mg |
| turmeric (curcuma longa) extract (root). | 150 mg |
| Berberine HCI (from Indian Barberry extract) (root) (Berberis aristata) | 125 mg |
| n-acetyl-cysteine | 100 mg |
| alpha lipoic acid (thioctic acid) | 100 mg |
| Chicory extract (root) (Cichorium intybus) | 100 mg  |
| Burdock extract (root) (Arctium lappa) | 100 mg  |
| artichoke (cynara scolymus) extract (leaf). | 100 mg |
| ascorbyl palmitate (fat-soluble vitamin C) | 12 mg |
| Luteolin | 5 mg |
View full details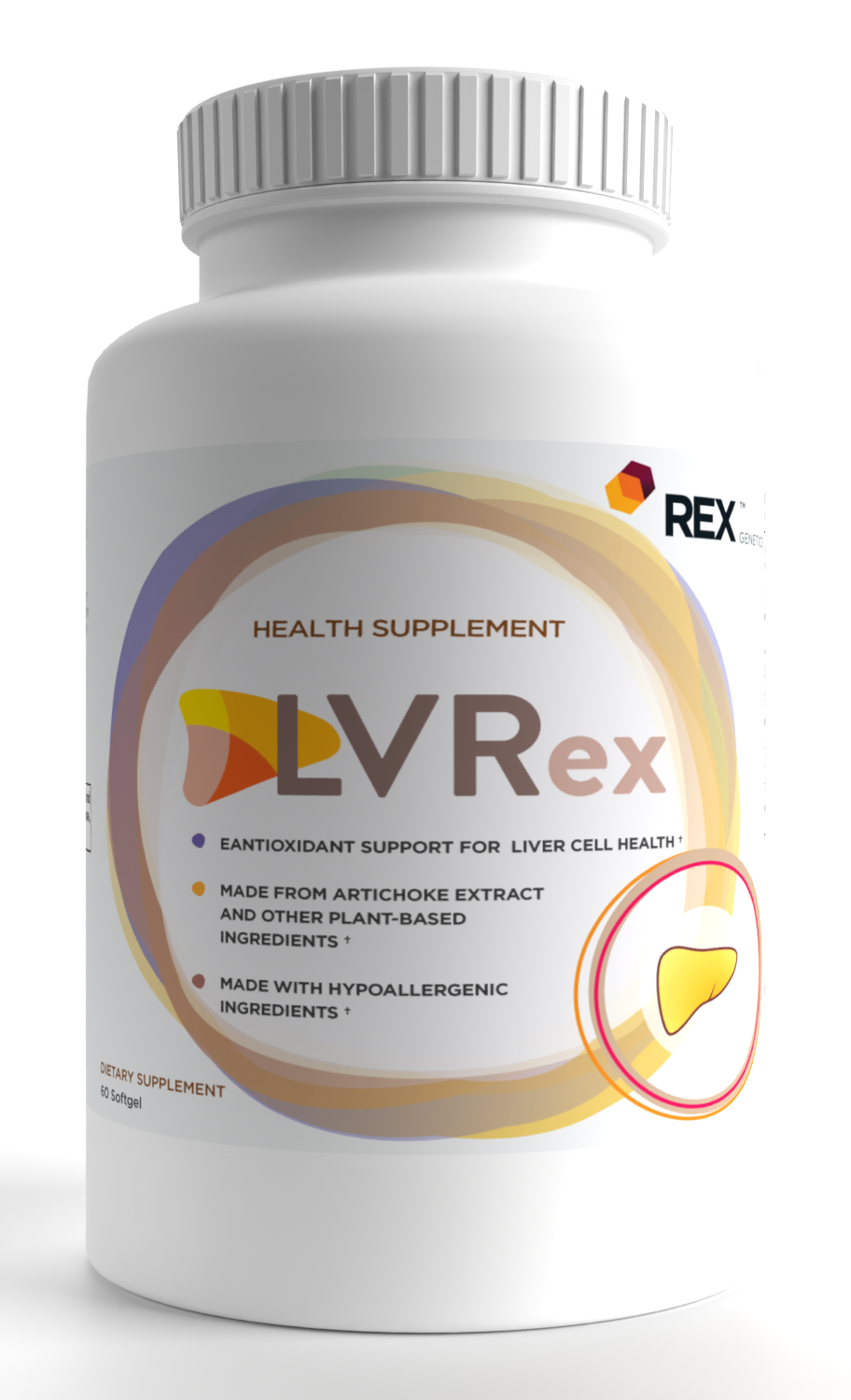 ETIOLOGY

Your liver works tirelessly, serving hundreds of vital functions, including filtering and detoxifying your blood, producing bile, storing glucose and essential nutrients, producing proteins, and regulating blood clotting. REX Genetics' LVRex provides comprehensive botanical and nutritional support for optimal liver health.
The liver is vulnerable to stress from exposure to environmental toxins, infections such as hepatitis, and even cancer. Additionally, an epidemic of a degenerative condition called non-alcoholic fatty liver disease affects nearly 30% of the U.S. population*. Protecting the health of your liver is more important than ever. The natural botanical extracts and liver-specific nutrients in LVRex provide safe, gentle daily liver support.


WHY

The combination of ingredients in REX Genetics LVRex supports healthy liver in these important ways:
• Antioxidant and anti-inflammatory support. *
• Supports bile production.*
• Protects against toxin-induced damage. *
• Promotes liver cell regeneration and inhibits degenerative scarring and fat deposits.*


WHO

LVRex is ideal for anyone who wants a safe, scientifically proven supplement for supporting liver health. LVRex can also be used to ensure efficient detoxification, support digestive and metabolic health, and enhance overall wellness by promoting healthy liver function. LVRex may also be used under the guidance of a qualified health professional by those with certain liver conditions for the purposes of supporting and promoting improved liver function.